12.09.2022
Gratitude for professionalism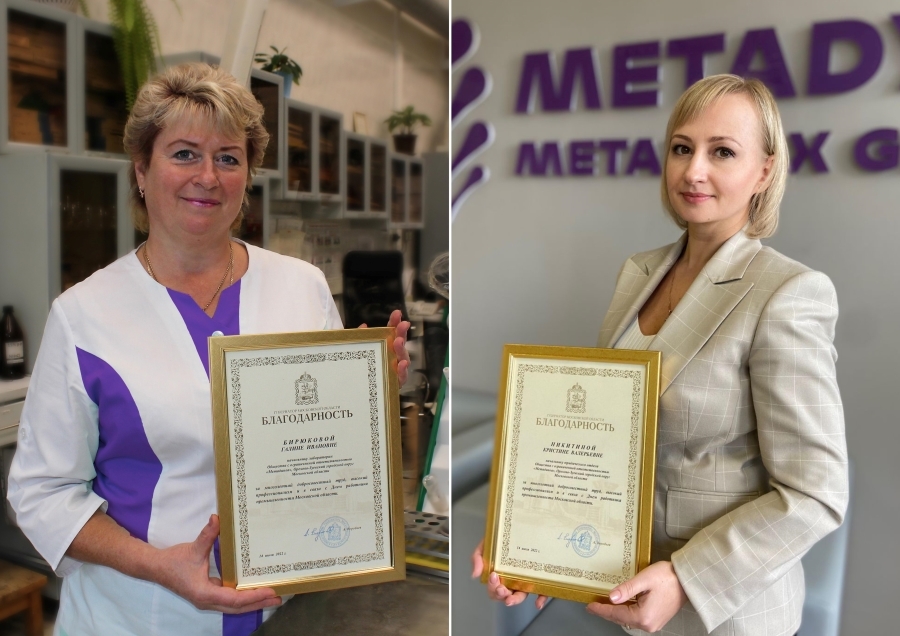 Our colleagues from "Metadynea" - Galina Biryukova, the head of the laboratory and Kristina Nikitina, the head of the legal department, received the badges of merit of the Moscow region for their high professionalism and significant contribution to the development of industry.
- The reputation that "Metadynea" values consists of the achievements of our employees, - highlighted Igor Spassky, the general director of the company, - We try to create conditions within the team that help our specialists to achieve their set goals as efficiently as possible and develop themselves in the professional area. On behalf of the "Metadynea" team, I congratulate my colleagues on the well-deserved regional level commendation.
The commendation of the Moscow Region was presented to Kristina Nikitina at the weekly meeting by Igor Spassky, General Director of "Metadynea" LLC.
- I thank my colleagues for their support and trust. This award would not exist if there was no such well-coordinated work in our team. I believe that we will continue to work fruitfully in such a friendly atmosphere, - said Kristina Nikitina.
Galina Biryukova was awarded by Vyacheslav Zhdanov, the Deputy General Director of "Metadynea" LLC, and Maxim Hamidulin, the Quality Manager.
- Of course, it was unexpected and celebratory for me, we exchanged firm handshakes, – Galina Biryukova shares her impressions, – I am grateful to my colleagues, together we will continue to solve our work tasks.
Galina Biryukova and Kristina Nikitina are from Orekhovo-Zuyevo district. During their careers, they were able to achieve great success and now hold management positions in "Metadynea". Read about how it happened in the "Living stories of Metadynea" piece: Living stories of "Metadynea" - March 8th (metadynea.ru)