23.11.2022
Strategy in the current conditions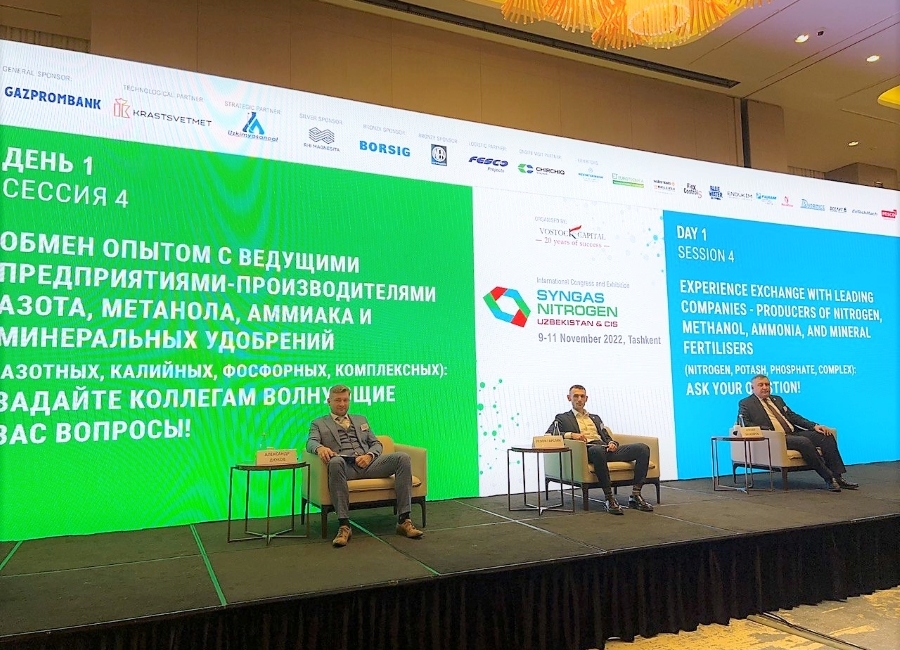 The Metafrax Group delegation took part in the work of a professional international platform for representatives of the methane gasconversion industry of Uzbekistan and other CIS countries. The participants of the meeting discussed the largest investment projects for the construction and modernization of production facilities, as well as the possibilities of improving the efficiency of existing enterprises-producers of methanol, ammonia and nitrogen fertilizers.
A congress and exhibition for representatives of the chemical industry of Uzbekistan and CIS countries was held in Tashkent (Uzbekistan) on November 9-10. The event was attended by the largest enterprises-processors of synthesis gas, authorities, regulatory and supervisionbodies, licensors of production technologies, developers, manufacturers and suppliers of equipment, engineering and design and construction companies, suppliers of technologies and services from more than ten countries of the world.
The delegation of Metafrax Group was represented by theDirector for Strategic Development and Evaluation of Investment Projects - Levon Garslyan,Head of the Strategic Development Department of the Company - Evgeny Gavrilov and his deputy - Lyudmila Zueva. The development of the investment strategy and promising projects of Metafrax Group in the current conditions became the main outline of the speeches of representatives of the Group of Companies at this event.
In his report "Metafrax Group Strategy, experience in findingof new projects" Levon Garslyan spoke about changes in the group's investment strategy in the current conditions.
- Today, it is important to reconsider the approach to investments in the current uncertainty, to focus on maintaining the competitive position of the Group and expand its activities, primarily by means of new markets, but not the products, –highlighted Levon Garslyan. – "Entry" into new productsin the current realities is possible, but should be carried out based on the principle of strategy fit – compliance with the philosophy and strategy of the Group. Our basis is to form the future environmental, social and business environment by means of responsible development of the chemical industry.
Evgeny Gavrilov elaborated upon the topic by presenting to the participants of the event the experience of anti-crisis planning of Metafrax Group. He also moderated the session:"Modern equipment, technologies and solutions as drivers of technological development of the industry", where innovations and popular areas of development in the chemical industry were discussed.
Lyudmila Zueva took part in the round table discussion: "Transport and logistics infrastructure for existing enterprises and planned productions". The main topic of discussion was the sharing of experience and solutions for new transport and logistics tasks in a changing current environment.