05.06.2023
The quickest chemists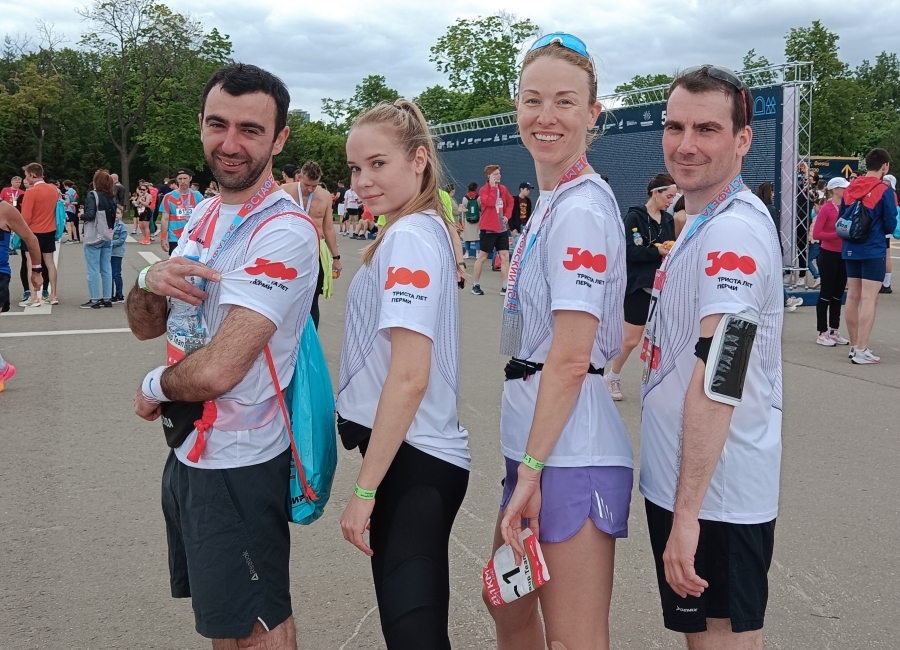 Metafrax Group for the first time has participated in a corporate race of Moscow half marathon, which has happened on 14th May. In a team of four participants ran the holding company representatives from Perm region, Moscow and Moscow region. Based on results of the race, Metafrax Group team ranked among thirty best corporate teams out of 50 participants.
The team has participated in the race in sport t-shirts with the logo of 300-years anniversary of Perm, and in general corporate style of Metafrax Group.
Levon Garslyan, strategy and investment director of Metafrax Group:
"This year as a part of the corporate race of Moscow half marathon Metafrax Group team was the only team from Russian chemical industry, which enable us to rightfully state, that during this race we were the quickest among the Russian chemists".
Lydmila Zueva, strategy and development department head of Metafrax Group:
"Participation in global sport events, racing in particular, brings the personnel closer. Since you run not only for yourself, but for the company as well. I would love on the racing tracks to have many of our colleagues in corporate t-shirts, and for this number to multiply".
Victoria Ovsyankina, strategy and development department analytic:
"Very nice feelings from the race. I will surely run next time, when there will be an invitation – I will train for that.
Pavel Ivanov, federal authorities communication department head of Metafrax Group:
"The most important thought during the corporate race was responsibility. Since here you shall run not only for your own result, but you shall not let down the teammates, and the company in general – to not miss a participant of a previous stage, to run fast and hand the baton over to the next person, and not to forget to pick up the belongings of the teammate. Why the corporate events are nice – the communication becomes better in work".
Shota Karslyan, chief finance specialist of Metadynea LLC:
"I would like to wish to all Metafrax Group colleagues to love sport, since it provides health, inspiration and bright emotions. I would like to thank the group of companies, which allows to participate in such events, as well as our responsible colleagues, which supported participation of our team in this event".
---
Moscow half marathon is the largest race in Russia with the distance of 21,1 km, which route is on the central river banks and around landmarks of Moscow. By the way, Vladimir Nikitin from Perm won Moscow half marathon based on individual scores in 2023.