12.12.2022
Workshops for universities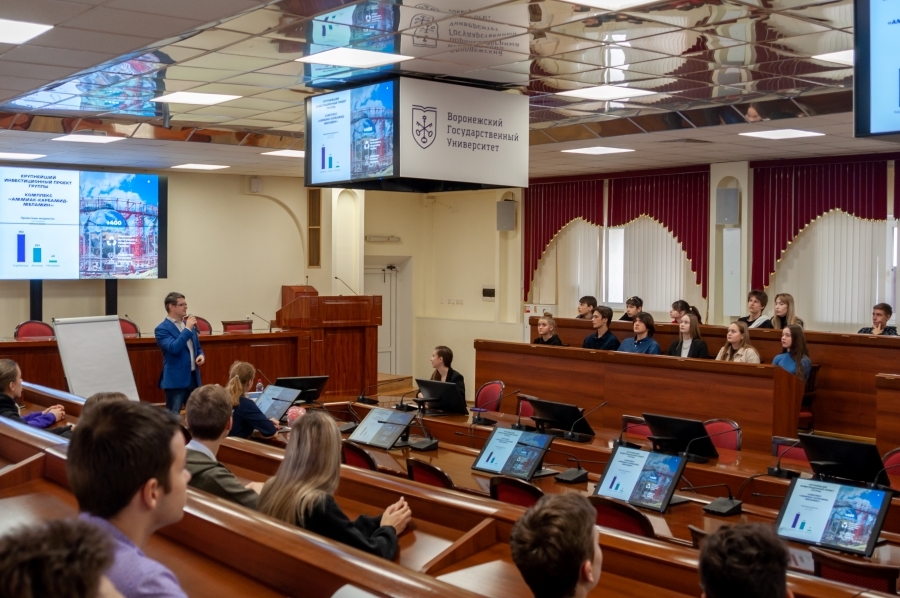 A series of workshops of "Metafrax Group" on project management, which was started in March of this year, has ended within the walls of the Russian Academy of National Economy and Public Administration (RANEPA).
Evgeny Gavrilov, the Head of the Strategic Development Department of "Metadynea" LLC, spoke about the "Metafrax" group of companies, presented its key projects and, together with university students, reviewed approaches to managing deadlines at different stages of work with projects.
The workshop at Voronezh State University (VSU) was held as part of the university's "League of Innovations" project. The project is a pre-accelerator of innovative projects for school students enrolling in VSU.
- As part of the workshop, I talked about the method of searching, evaluating and opening projects. During practice, while using examples that the students understood, we set a strategic goal, formed a portfolio of projects to achieve it and opened one project by filling out its charter. – shared Evgeny Gavrilov. – During the final part of the meeting, I answered the questions of young innovators and told them about the prospects for future chemists.
At the Financial University under the Government of the Russian Federation, Evgeny Gavrilov conducted workshops titled "Managing the deadlines of investment projects" for 4th year students. During the first part, students familiarized themselves with the key projects of "Metafrax Group" at the launch stage. During the search and evaluation of project initiatives, emphasis was placed on the dependence of deadlines on the precise definition of the goals and results of the project.
- We also reviewed recommendations on the decomposition of works, a unified approach to assessement of the work progress, contradictions between the work schedule and the assignment register and other application features of project management tools, - noted Evgeny Gavrilov. – The students were mainly interested in software, the role of the project manager in successful project completion as well as certain aspects of the project evaluation.
The "Risk management" topic was covered in the final workshop for students of the National Research Nuclear University "MIFI".
- We have reviewed the specifics of risk management at each level of the company's management – during strategy preparation, during management of investment project portfolio, during project management and in operational management. We have separately reviewed the issues of risk assessment, development of response measures and evaluation of their effectiveness, starting with recommendations in the IPMA ICB 4 and PMI PMBoK 6 project management standards and ending with unique examples from practice, - concluded Evgeny Gavrilov.
The final workshop at the Russian Academy of National Economy and Public Administration (RANEPA) was dedicated to the topic of "Project portfolio management as a strategy management tool". The students were introduced to the operation nuances of international standards and practical operation tools of "Metafrax Group" specialists.
The organizers confirmed the students' interest in the format and material of the workshops held by "Metafrax Group". New meetings are scheduled for the next semester. In total, six similar events were held this year.