01.11.2022
Metadynea expands cooperation with universities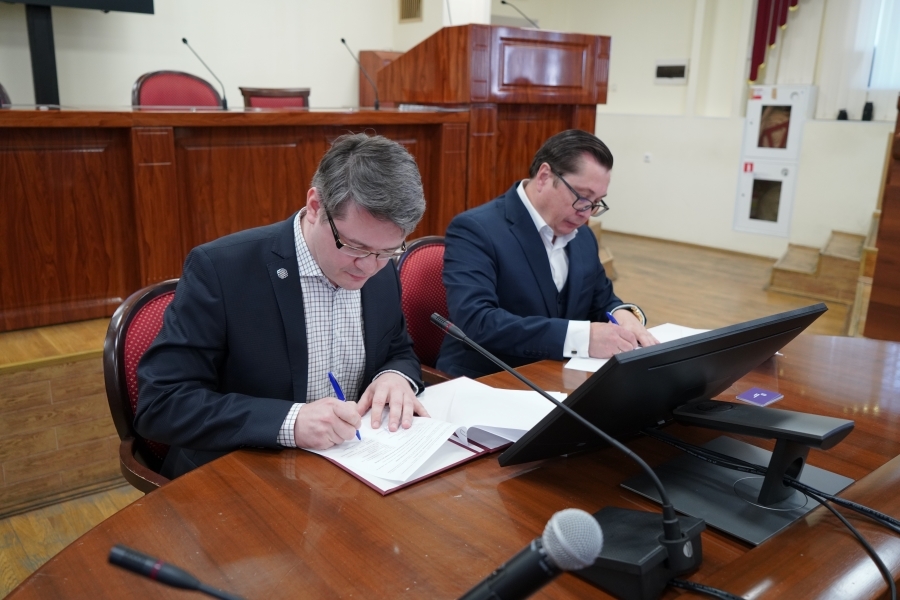 An agreement on cooperation between the university and "Metadynea", the Russian manufacturer of synthetic resins, has been signed at the site of Voronezh State University (VSU). Evgeny Gavrilov, the Head of the Strategic Development Department of the company, discussed the prospects for cooperation between VSU and "Metafrax Group" with representatives of the Faculty of Chemistry.
The signing ceremony took place during a meeting of the university's management, teachers and students of VSU's Faculty of Chemistry with Evgeny Gavrilov.
– Today it is possible to say that we have "put new flags on our maps" and are starting to work on two tracks: internships for students at our production sites in Moscow and Perm regions and developments for the formation of the company's product portfolio, – noted Evgeny Gavrilov.
Oleg Kozaderov, the Pro-rector for Science, Innovation and Digitalization of VSU and Head of the Department of Physical Chemistry, who acted as a moderator of the meeting, spoke about the work of the Faculty of Chemistry. According to the pro-rector, most of this work is aimed at the university's contribution not only to science, but also to the economy.
---
"Metadynea" LLC is a manufacturer of synthetic resins of a wide range of applications. It is a part of "Metafrax Group". The Group of Companies systematically supports educational projects, the top managers give lectures to future specialists and speak at scientific forums and conferences.